Could there be a simpler dessert? I don't think so. Fresh blackberries and and opened jar of red currant preserves inspired this recipe. It helped that I had frozen puff pastry on hand as well.
Ingredients:
Frozen puff pastry (the package I used was

cut

into 6"x 6" squares)
1 pint of fresh blackberries
1 jar of red currant jam
1 pint of heavy whipping cream
1t vanilla extract
powdered sugar to dust over the completed Napoleon
Directions:
Cut puff pastry sheets in half vertically, set on parchment paper on a baking sheet and bake as directed. Halfway through the process, weight the pastry with another baking sheet. If you only have one baking sheet, press puff pastry down to a thin layer after taking it from the oven when it is still hot. The object is to have a flat horizontal surface on which to place the other ingredients. While the pastry is baking, whip the cream and add the vanilla, then set aside.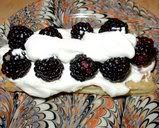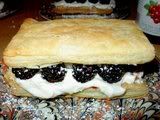 Place a single pastry on the serving dish and spread 2t red currant jam on it, layer with whipped cream, then add the berries. Add on a bit more whipped cream so the next layer of puff pastry has an even surface to lay upon. Layer more jam and whipped cream on the second layer, then add 3 of the largest berries as a decorative finish. Dust with powdered sugar and serve.