If this salad were more simple I'd be too embarrassed to list it here. The key to the taste is home grown lettuce. Nothing can compare in taste to a fresh picked lettuce...unless it is a fresh picked ear of corn, or tomato.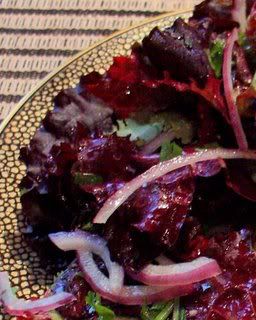 Ingredients:
2 heads of different type lettuce (in this case Merlot and Lollo Rosso)
1 thinly sliced, medium red onion
1/2 cup fresh herbs (cilantro, parsley or basil)
extra virgin olive oil
red wine vinegar
salt and pepper
Directions:
Wash and dry lettuce, place in a large bowl, add sliced onions, and add the coursely chopped herb (I used cilantro only in this one). Drizzle with olive oil, sprinkle with kosher salt and freshly cracked black pepper, then mix, drizzle with red wine vinegar, remix and that's it.