This is the salad I think of first when the weather starts warming up. I usually pair the cranberries with pecans, but this one was made with toasted, slivered almonds that were already in the pantry. I used Mandarin orange flavored olive oil and lemon flavored balsamic in this interpretation, but usually use extra virgin olive oil and plain balsamic.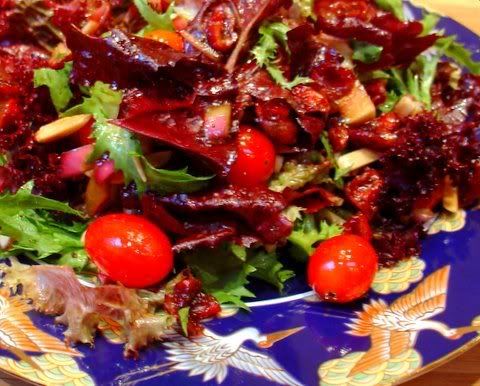 Ingredients:
4C mixed salad greens (Lollo Rosso, Merlot, and Frisee)
1/2 thinly sliced or diced ,medium red onion
1/3C dried cranberries
1/4C toasted, chopped or slivered nuts
1pt cherry tomatoes
extra virgin olive oil
balsamic vinegar
salt & pepper
Directions:
Wash and dry your salad greens and place in a bowl large enough to mix all your ingredients. Place the dried fruit in a small container with enough balsamic to cover, then mix in the diced onion and set aside. Add the tomatoes to your salad greens and pour on some olive oil, then salt & pepper it and mix. Since I rarely premix an oil & vinegar based dressing, I find that coating everything with oil first works best.