This is the easiest appetizer I have ever put together and was inspired by a wasabi flavored caviar that I tasted last year. That prompted me to look for a Japanese style cracker to finish off the idea. It's a great filler recipe when you're making more complicated appetizer recipes.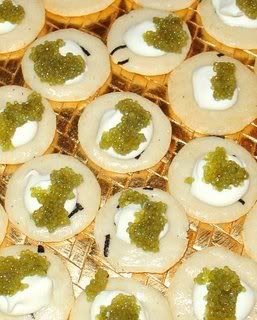 Ingredients:
1 jar wasabi flavored caviar
1 pint creme fraiche
1 box seaweed rice crackers
Directions:
One picture, a photo in this case, is worth a thousand words!