Nana made these every Christmas and even though they are not my favorite cookie, I enjoy making them for the memories they bring back. As I was putting together the recipe tonight, I thought back to the struggle Nana and I would have hand mixing this batter. We had to trade off the chore, because it was so difficult. If only we had a KitchenAid mixer at the time.
These were a bar cookie popular in the 1930's. There are many recipes for them on the Internet, but this one is from the 1934 Loyalty Cook Book put together by the Native Daughters of the Golden West. Mom's name is on it, so I suspect it was her first cook book.
Ingredients: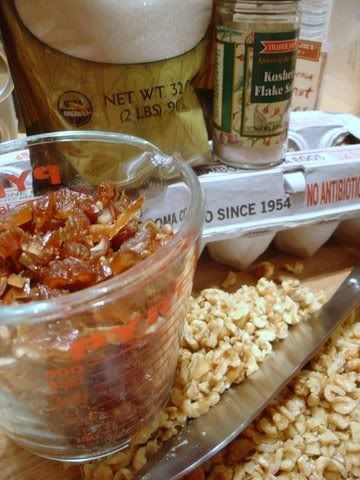 4 eggs
2C sugar
1 1/2C flour
1t baking powder
1/2t salt
2C chopped dates
2C chopped walnuts
Directions: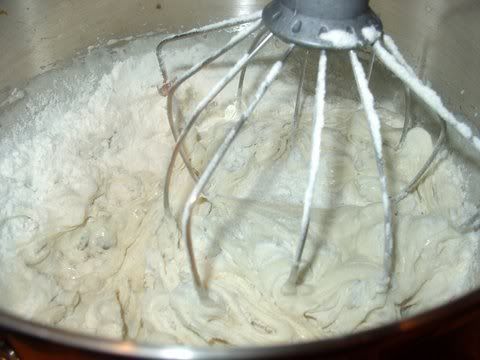 Mix together the flour, baking powder and salt, then set aside. Beat eggs and gradually add in the sugar until you have a light fluffy mixture. Then add the dates mixing slowly. continue mixing while adding small amounts of the flour mixture until it is all completely incorporated. Add the chopped walnuts and mix them in by hand so as not to break them into smaller pieces.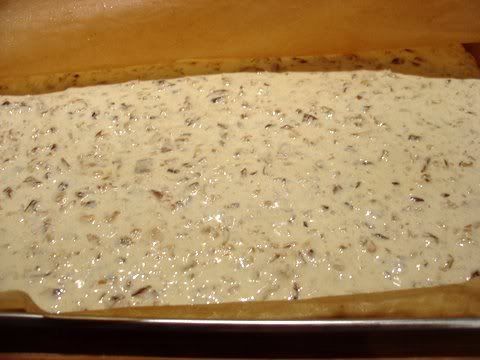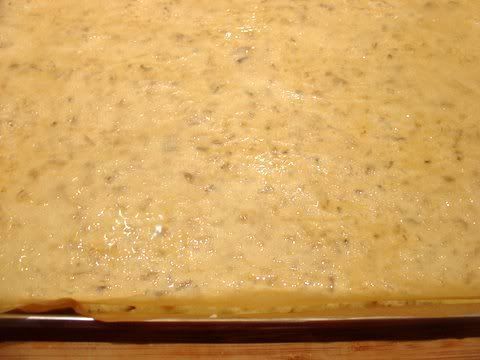 Preheat your oven to 325 degrees. Prepare a jellyroll pan by placing a liner of parchment paper into it (Nana used to grease the pan and dust it with flour), then place your batter down the middle of the pan and spread it evenly to all 4 corners of the pan. This is a very sticky batter, so you'll need to put some muscle into it! The one thing I do differently than Nana is to grease another sheet of parchment paper and place it on top of the batter before placing it into the oven. This keeps the top from becoming hard, so it can hold the powdered sugar better. Bake the batter for 25 minutes and test to see if it is done by putting a toothpick into the center. If it comes out wet you need to cook it longer. I often turn up the heat to 350 degrees if it is not cooked at that point and bake another 10 minutes.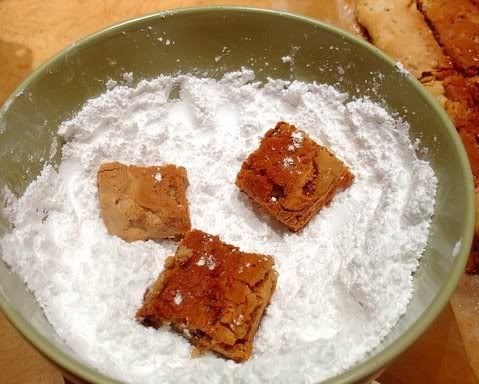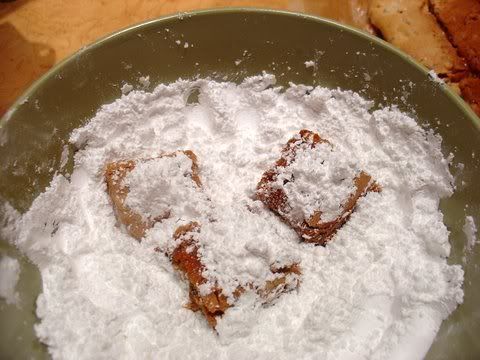 After you take the sheet pan out of the oven, remove the top layer of parchment paper and let the cookies cool a bit before cutting them into bars. Nana liked to cut them into squares. While still warm, roll them in powdered sugar. As you can see by the first photo above, the area to the left is light in color and has a different texture. It was not covered by the parchment and the batter became hard and slick surfaced. It will not hold the powdered sugar very well.