This risotto is less sophisticated in flavor than the one using the liver. It reminds me of a good solid peasant dish, simple, with easily identifiable flavors. I added peas for color and sweetness, hoping they would go well with the rich duck taste. I didn't stop there, but decided to add the figs. I kept them as a garnish, since I didn't know if they would be too overpowering if cooked directly in the risotto. That was a good call.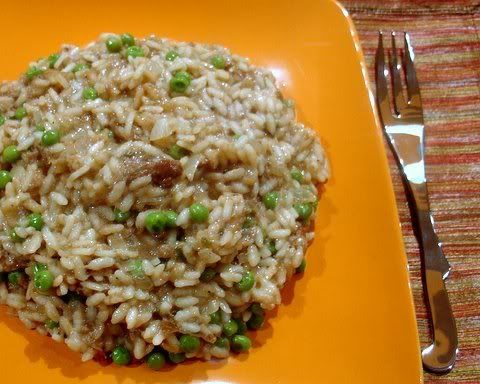 Ingredients:
1 1/2C arborio rice
4C duck stock
1 medium yellow onion
6 medium sage leaves
2T extra virgin olive oil
3 1/2 oz. shredded duck meat
1C small peas
1C freshly grated parmigiano
salt & pepper to taste
Directions:
Saute the onion and sage in the olive oil until the onion is translucent and the sage releases its aroma, then add the duck meat. Now add the rice and saute until the rice appears very white and opaque.
Add the heated stock one cup at a time until it is fully absorbed into the rice. When you add the last cup of stock also add the cup of frozen peas, then stir until the stock is absorbed and the peas are cooked. Take the rice off the heat and add the grated cheese, plate and serve.
If you like eating fruit with duck, you may wish to try chopping 4 Calimyrna figs into a small dice and cooking them in 1/2 cup of the stock, then adding to the top of the risotto. If you choose you may cook them whole and use as you would a garnish. I might also suggest a drizzle of thick balsamic syrup, or even balsamic glazed onions as an accompaniment for this risotto.