A friend's recipe for a baked onion and leek gratin lead to this version for potatoes. I had stocked the necessary cheeses, but had no onions or leeks on hand when the expiration date on the cheese was coming due, couldn't even find the recipe, so I needed to improvise.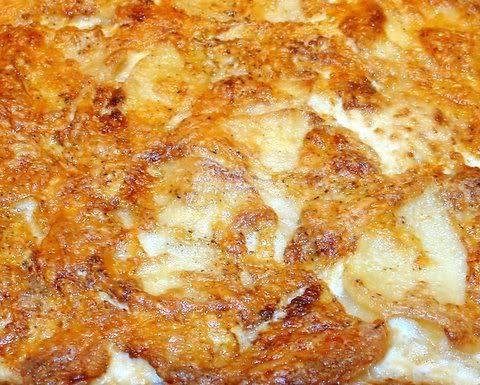 Ingredients:
4-5 large baking potatoes
2 packages Boursin herbed cheese
8 oz. Havarti cheese
1 pint half & half
chicken stock or broth
butter
Directions:
Peel and slice the potatoes very thinly and start spreading them like a deck of cards along a buttered baking dish. Preheat your oven to 375 degrees. Place the Boursin in a bowl and start mixing it with half and half until you get a very thick cream consistency. Grate the havarti and layer it sparingly over the potatoes, now drizzle on the Boursin. You should have enough ingredients to create 3 layers of potatoes and three layers of cheese. If you want to you may alternate the layers of cheeses, but leave some of both to place on top.
When you get to the last layer of potatoes, pour the chicken broth over them until the broth is beneath the top layer of potatoes. Generously sprinkle the last of the Havarti on top of the potatoes, then finish off by drizzling the remaining Boursin on top of that. Cover the baking dish with a tin foil tent and bake for 1 hour. Check to see if the broth has fully absorbed into the potatoes. If it has, take off the tin foil and continue baking until the top is nicely browned.
Note: If the potatoes are cooked through and there is still a lot of liquid, you added too much broth, so take some out with a baster and continue baking until what is left has been absorbed by the potatoes.