I chat online with a group of friends that are serious cooks. A posted recipe for a braised pork dish helped me to come up with this compote that works so well with duck. It can be used for chicken, turkey and pork too. I took the main ingredients of dried sour cherries, brandy and bay leaf from the pork recipe and branched out from there...it was a short limb, as the only new idea was to add chicken stock and eliminate the other spices.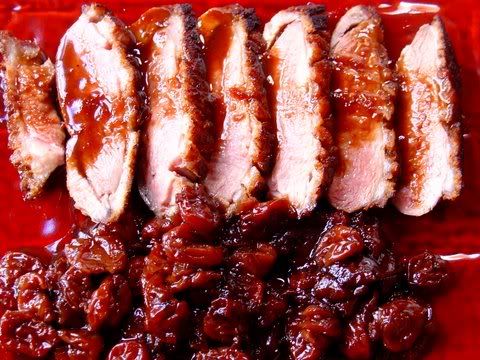 Ingredients:
3/4C dried Montmorency cherries (any kind that is tart)
3/4C brandy
1 1
/2C chicken stock
3 bay leaves
Directions:
In a small saucier, or even a small frying pan (we're looking for lots of cooking surface so the liquids can reduce) simmer the cherries and brandy. When the cherries start to plump up, add the chicken stock and bay leaves. Stir occassionally until all the liquid has reduced by 2/3. This very simple to do while you cook other items. The taste is rather spicy and rich, so adding butter was not necessary.