Masoor dal was the main ingredient of this porridge-like soup. It was an ingredient I bought on a whim in an Indian grocery store. The deep orange color was fascinating, but unfortunately it changed to a harvest gold reminding me of yellow split peas; not quite so exotic. This is a spicey recipe and is perfect for a cold, damp day.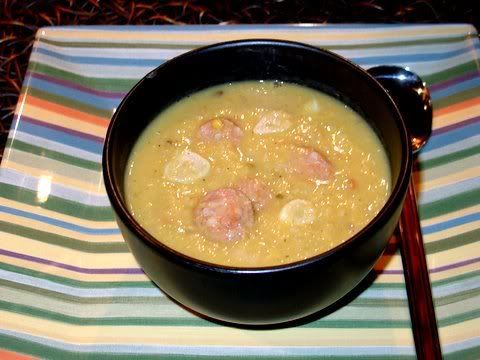 1 oz. dried porcini mushrooms
1T extra virgin olive oil
Directions:
Cut the sausages into thin slices and saute until brown over a medium flame, add chopped onions and minced sage leaves and continue sauteing. You'll probably need to add the olive oil now, just before you add the thinly sliced garlic cloves. Saute for a few minutes but don't brown the garlic, and add the dal.
Allow the dal to saute while you mix it into the sausage mixture, once fully mixed add enough water to cover the other ingredients by 2-3 inches. If you like a thinner soup you may need more water. Stir and bring to a soft boil before adding the crushed, dried, porcini mushrooms. Salt to taste, then lower the heat to a simmer, cover the pot and let cook until the dal breaks down and is fully cooked. Stir every 5 minutes or so to make sure nothing is sticking to the bottom of the pot or burning.