Mostaccioli

was Nana's "go to" pasta. She made more pasta dishes with this pasta shape than with any other, in fact, I only remember her using

mostaccioli

, vermicelli, long

ziti

,

ditalini

and occasionally angel hair pasta. I digress...this dish is the way Nana got me to enjoy cauliflower. It's a Southern Italian treatment, so she may very well have gotten the recipe from Papa.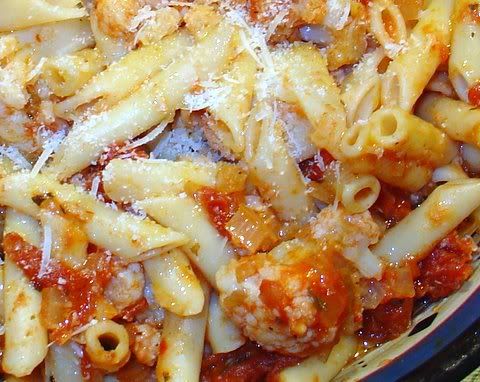 Ingredients for the Sauce:
1 15 oz.can of solid packed or stewed tomatoes
1 8 oz. can of Del Monte tomato sauce
1 medium yellow onion
2 cloves of garlic
red pepper flakes
dried basil (I don't think Nana used this)
extra virgin olive oil
Ingredients for the Pasta:
1 head of cauliflower
1 lb.

mostaccioli

or

penne

pasta
freshly grated Romano cheese
Directions for the Sauce: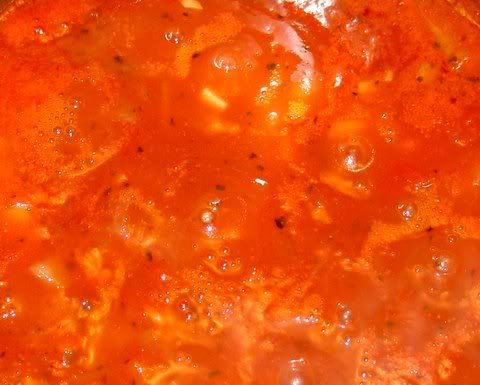 Dice the onion and saute over medium high heat in olive oil, then add chili pepper and basil and saute a few minutes longer. Add the can of sauce, then the stewed tomatoes and stir, then add the minced fresh garlic and lower the heat and simmer, until the pasta is ready to be dressed. Meanwhile put a 6 quart pot of water on to boil for the pasta and cauliflower.
Directions for the Pasta: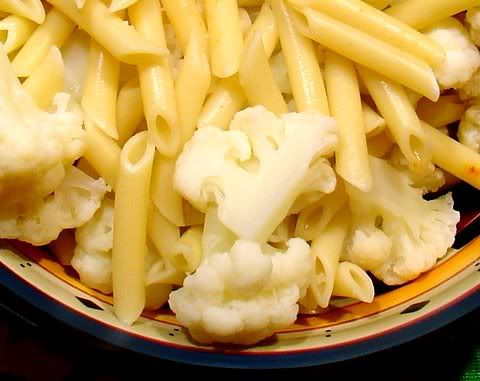 Cut the cauliflower in half lengthwise and start separating it into florets, larger pieces may be cut in half. Place the

mostaccioli

into the rapidly boiling water and stir to keep from sticking, then cover the pot and bring back to a rapid boil, now add the cauliflower. "Stir

occasionally

and test the pasta. When it is cooked to your liking, drain the vegetable and pasta.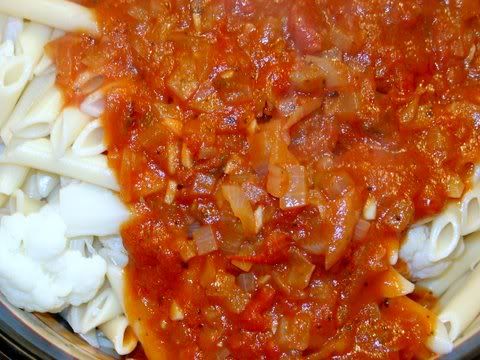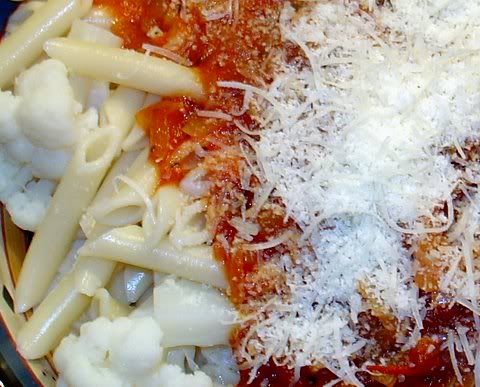 Place the drained cauliflower and pasta into a large bowl and cover with the sauce and a handful of the grated Romano, now stir to incorporate the sauce and cheese completely. Plate each serving and drizzle with a bit more olive oil and add more cheese if desired.