This is not an exact recipe, but Nana didn't measure out ingredients anyway, so it's at least her original recipe, through and through. When she was a young woman, Nana worked for a short time in a delicatessen and she mentioned that this was a German potato salad. I have only seen German recipes for a warm salad and they usually include bacon, so Nana took liberties with the original, but came up with a very good taste nonetheless.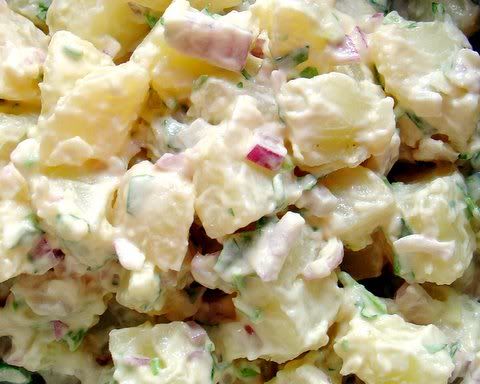 white potatoes (any waxy potato)
extra virgin olive oil (Nana may have used corn oil)
Boil the amount of potatoes you want to use and cook until easily pierced with a fork. Take off the stove, drain and fill the pot with cold water several times to cool down the potatoes quickly. Drain off the water again and peel the potatoes. Cut the potatoes into cubes, not thin slices, and

sprinkle

each layer of potatoes with a little vinegar. Once you have filled the bowl with potatoes, add finely diced red onions and finely chopped parsley. Drizzle with extra virgin olive oil and mix, then add some

mayonnaise

and salt and mix

thoroughly

. I think 1 medium red onion would be enough for 5 pounds of potatoes, along with about 1/3 a bunch of parsley. If you can do the proportions similar to those in the photo, you'll have it.