Walk into any authentic Southern Italian restaurant and you'll find arancini on the menu. It's the Italian equivalent of fried rice, directly developed by the cucina povera culture out of necessity. Nothing is allowed to go to waste and this is an excellent use for leftover risotto that is best served when first made and not as a reheated item. Since porcini risotto is a staple in our home, I was bound to eventually make arancini, but with an American twist. I have incorporated Japanese panko (very crispy bread crumbs). As is customary in the classic cucina povera style, I use what is available to me and already stocked in my pantry.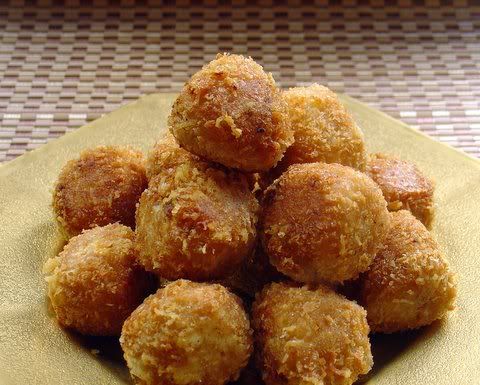 Ingredients:
leftover porcini risotto
flour
2 extra large eggs
panko
Romano cheese
extra virgin olive oil
Directions: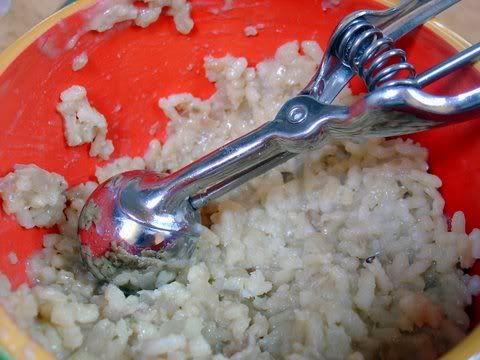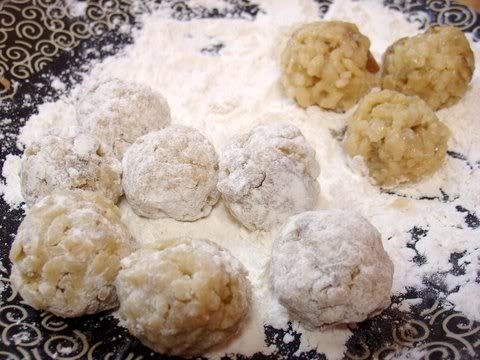 Using a small ice cream scoop, take small amounts of the risotto and form a 1" rice ball by rolling the rice between your hands. I use the small ice cream scoop to make this an easier process because it helps to compress the rice. Roll each rice ball into the flour to coat. Heat about 1" of the olive oil in a frying pan and place the pan over a medium low heat.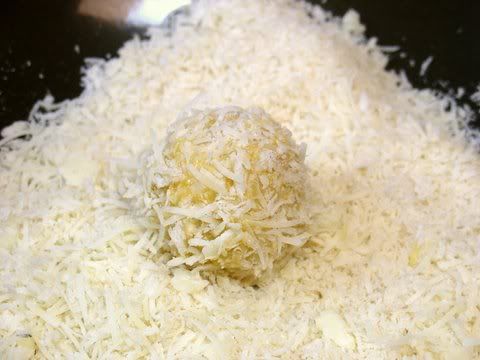 Next you'll need to place the eggs in a bowl and whisk them together for an egg wash. Depending on the amount of rice, you will need to determine the amount of panko that you will need. Let's say you think half a cup will cover what you have. Place the panko and half as much (1/4 cup) freshly grated Romano cheese into a shallow bowl and mix thoroughly. Now take the flour covered rice balls and coat them with the egg, then roll them in the panko/cheese mixture until they are completely covered and place them into the frying pan after the oil has heated .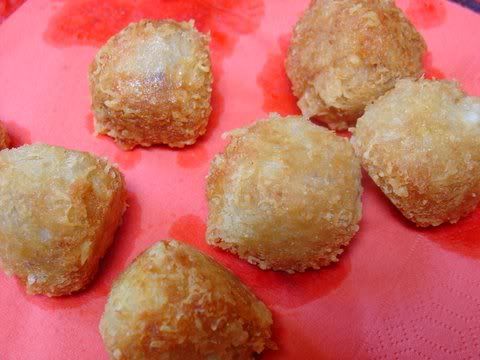 After each side fries to a golden brown color,
turn the arancini

to
brown more of the surface until they have been completely browned. Since the rice is already fully cooked, the object is to crisp up and heat the arancini. Drain on a paper towel or paper napkin, in this case, and serve. Room temperature is fine for these appetizers, so they do not need to be piping hot, just warm.