When it comes to roasting chicken or game hens, I usually opt for a non-edible stuffing that works to moisten and flavor the bird instead of being eaten as a side dish. We eat enough starches as it is so eliminating breading or rice in this instance seems like a healthier option.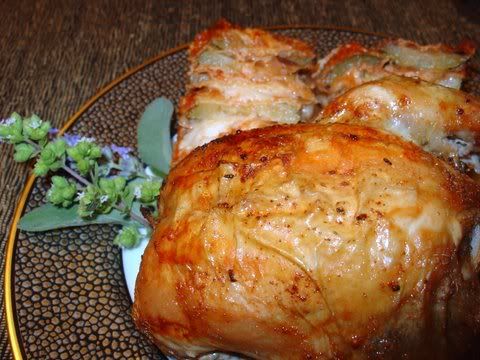 12 sprigs of French or English lavender flowers
Defrost and wash the hens, then pat dry and set aside. Skin and quarter the onion and add a quarter of it into each bird cavity. Wash the herbs and add 4 sprigs of thyme to each hen, then 3 sage leaves to each and 3 lavender sprigs to each. Set the birds on a rack inside a roasting pan and drizzle olive oil on each game hen. Sprinkle the poultry with the rosemary salt (you can make this yourself by pulsing 1 part fresh rosemary to 5 parts salt in a coffee grinder) and rub it into the skin all over the hen. Now roast in a preheated 375 degree oven for 45 minutes to an hour, until the skins cook to a crispy golden brown. The onion steams during the roasting and infuses it's flavors into the flesh of the bird. The herbs do the same thing and lavender was a nice change of pace for me.