Having tasty ingredients on hand makes working on a new recipe so easy. I know people have made asparagus risotto before and it sounded fairly bland to me, so adding prosciutto seemed a good idea. Adding a really good balsamic seemed a good idea too, but in reality, it wasn't. So as Nana would say, "Do as I say, and not as I do." and skip the balsamic. Its sweetness just muddles the flavors.
Ingredients:
1 lb arborio rice
2 chicken bouillon cubes
4C water
1 small red onion
16 asparagus spears
1C freshly grated Parmigiano
3T extra virgin olive oil
3oz sliced prosciutto
basil flavored olive oil
Directions: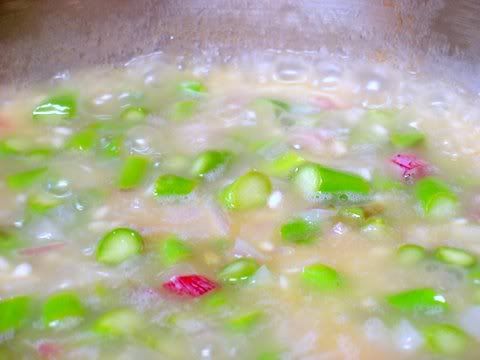 The very first thing to do is to is to boil the water and bouillon cubes. Once that is accomplished, you can add some olive oil into the risotto pan and saute the diced onions until translucent, then the rice. Trim off the spear heads from the asparagus and dice the stems so you can add them to the rice. Start adding the broth one ladle at a time and stir it into the risotto. Next thing to do is to chop and lightly saute the prosciutto, reserving half for the finished dish.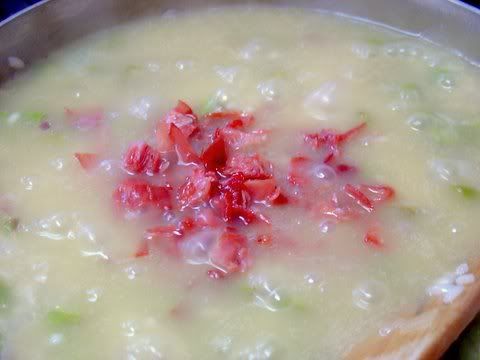 Add half of the prosciutto with the last ladle of broth and cook until finished. If it is not quite done add extra water until the rice is cooked.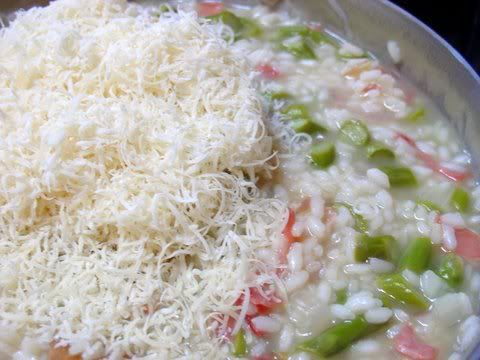 Take the pan off the heat when the rice is al dente and add the grated cheese, then stir in until it melts. Steam the asparagus spears.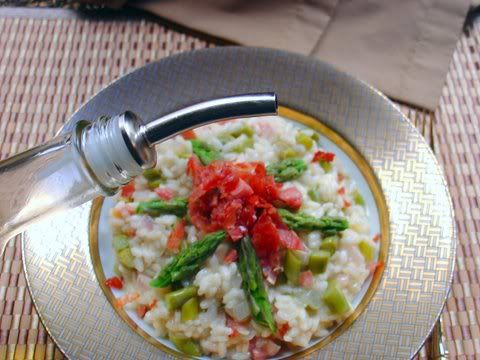 You may add some basil oil to taste before or after you plate the risotto. After plating add the reserved prosciutto and asparagus spears.
This dish is worthy of serving to company as a main course or as the first course of a holiday meal. I'm really glad I attempted making it and it has inspired me to do my own take on other traditional risotti recipes.